The Evolution From Historic Boarding House to Affordable Housing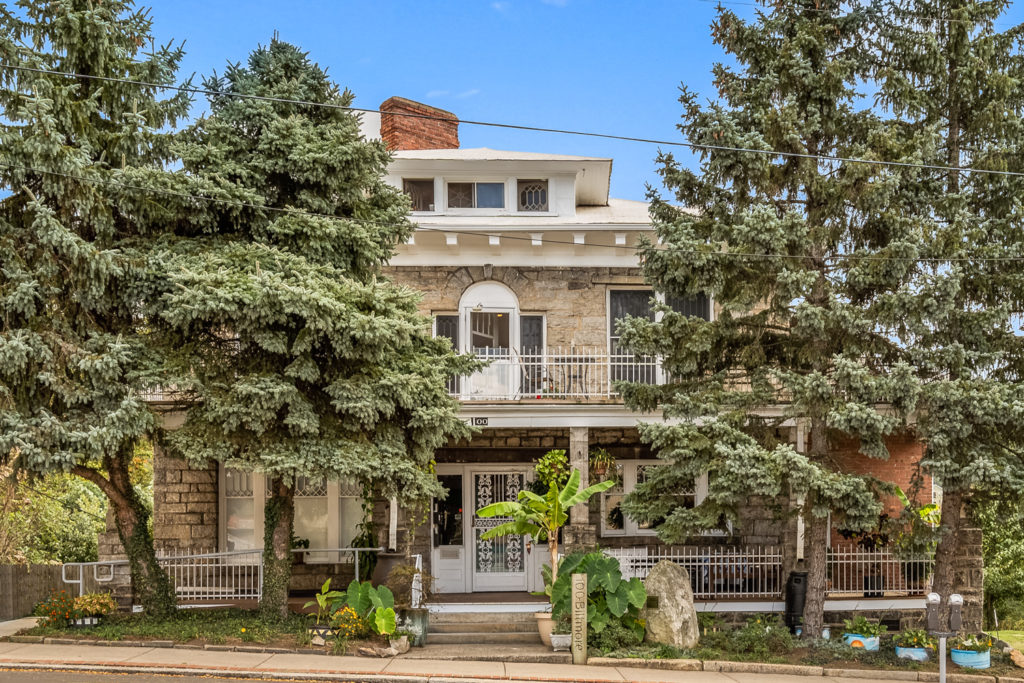 In 2001, I took on a rehab project that featured energy retrofits, historic restoration, and affordable housing. At the time, the building at 100 Biltmore Ave. was falling apart and needed a lot of TLC.
Built 90 years prior as a travelers inn, it had declined over time to be a low-end rooming house. I did a complete restoration, preserving the character of the building while upgrading the tenancy.
Two decades later, it remains affordable today with half occupancy as full time and the other half as a return to the original use as an inn.
The history of the property
The Gray Rock Inn was built by Morris Meyers in 1911 as a boarding house. It has been a short-term rental ever since, with weekly rents and shared facilities. It started out sparkly and swank, but the Great Depression took the wind out of the sails for all of Asheville in 1929. After that, well, the years took their toll. By 2001 when I got involved, it needed a serious overhaul. It was an opportunity to restore, recycle, and reuse an older building, and at the same time, practice green: non-toxic, solar, and affordable building.
It was a pretty piece of real estate on the southern edge of downtown Asheville. The rent was very low. The neighborhood was about to change. From the outside, the brick and rockwork looked solid. The metal shingle roof was original. There was some rust. Six spruce trees graced the front sitting porches. Inside, the place showed significant damage with termites and falling plaster. It needed a lot of work.
As a historic building, it had several features that you will not find in newer construction. The exterior walls were 18-inch thick masonry. The heating was a natural gas boiler with original radiators. The windows were large for lighting and ventilation.
There were 18 rooms for residents on a weekly budget. The bathrooms and kitchen were shared, making it private shared housing. Private means everyone has a separate room with a door that locks. Also, the ownership is private, not a big company or government. Shared means there are common facilities that everyone uses. Tenants are from all kinds of backgrounds with all sorts of interests. In the downtown area, a car is not required. Facilities and landscaping are taken care of professionally. Public spaces are cleared and cleaned daily.
The vision for the rehab
In the 1990s, I started to craft an idea.
What if an apartment building were acquired and rehabbed with solar and green-building technologies? What would that be like? Could advanced energy alternatives like solar and wind be incorporated into a housing development?
It was early in the development of green-building initiatives. The WNC Green Building Council (which later became Green Built Alliance) was formed in 2001, the same year I took on the Gray Rock Inn rehab project. Across the world, green initiatives have moved the direction of the entire building industry toward sustainability.
Affordability was a high priority. How could I make this building shine and still be affordable?
Nationally, buildings account for 40 percent of energy consumed. A lot of older buildings are energy hogs, using a greater portion of that energy for heating and cooling. New codes since the 1970s require insulation and conservation methods. Older buildings are still allowed to continue under the grandfather loophole. Owners and developers take advantage of that loophole to leave wasteful facilities in place. Insulation and conservation pay back their costs after only a few years, so persistence beyond the payback window pays off.
There were more questions: Can sustainable housing supply solar for people who would never be able to afford those benefits on their own? Could I find community-minded people who are willing to share resources? Could I make it attractive and fun? Could I make money and keep the affordability?
The background on shared housing
People have always shared homes. Privately held housing for friends and family has always been the most affordable option. The market-rate rent for shared housing is lower than for apartments, multiplex or single-family housing. Yet, shared housing is seldom talked about in the context of affordable housing. Shared housing seems to be invisible. The Department of Housing and Urban Development tracks affordability data for this area, but the smallest unit covered is an efficiency studio apartment. Shared housing is not on the list. It may be too hard to measure, so it is simply ignored.
Government and nonprofits help as much as they can but depend on subsidies to lower market-rate pricing. Qualifiers for rent assistance are often rated by Area Median Income (AMI) and placed according to their percentage of AMI.
The Gray Rock Inn is unsubsidized shared housing; even at market rates, rooms are affordable in the range 60 to 80 percent AMI. All the rooms are private and small. Bathrooms are public and shared.
In Asheville and around the world, shared housing is the most affordable housing option for friends, family and travelers. It has always been that way.
The long-term lessons
As affordable housing, the Gray Rock Inn is positioned to serve the community with style and flair. It has been cleaned up. The facilities have been brought up to code for the new century. The sustainability improvements are substantial and ongoing, with more work scheduled. The tenant mix has changed; the neighborhood has changed. With the new coronavirus at hand, so has the whole world.
Heating, plumbing, wiring, and fire protection have all been upgraded. Insulation was added, windows were replaced, solar hot water was installed. Environmentally responsible finishes were used for better air quality. Recycled materials were scrounged, collected and installed. The kitchen and bathrooms were upgraded. It is still affordable housing, and it is also green.
What lessons were learned?
Shared housing is not for everybody.
Fair-market rental rates are at the lower end of market-rate rentals, lower even than for apartments.
Green building can be a real benefit to older buildings. It does not have to be done all at once. Changes can be made in stages.
Parking is an issue and always will be, as long as there are cars. Car-free living is possible when things like food and jobs are available nearby.
Sophisticated systems require upkeep. Professional maintenance is necessary.
Affordability is always in demand, even in an economic downturn.
Screening new tenants is vital to maintaining sanity as a landlord.
Travel through life lighter. Waste less. Help each other. Keep spirit alive. We have the tech, the finance, the will. Reinvest in the community. We know what to do, and how to do it.
John Senechal is a green builder and founding member of the WNC Green Building Council, now known as Green Built Alliance. His special interests are solar, community and real estate. General interests are gardening, dancing and peace. .
______________________________________________________________________________
From the Green Building Directory 2020-21
https://www.greenbuilt.org/wp-content/uploads/2020/09/Green-Built-20.pdf
Published by Green Built Alliance and Smoky Mountain News