Businessman Morris Meyers built the inn at 100 Biltmore Ave. (then called Main Street) in 1911 and opened it in 1912. But when it came to the day-to-day operations, he hired Flora McDonald Sorrell to run the inn. The place quickly became known as Flora Sorrell's Boarding House (and is attributed as such on historic preservation documents today).
But who was Flora Sorrell? Like most women of her era — Flora was born in Chatham, NC, in 1854 — little evidence remains of her life. But from census records and newspaper clippings we've put together this picture.
Historic photo of boarding house keeper Mrs. Tremblay (right).
Flora was the daughter of Emeline Steadman and prominent civic leader John A. McDonald. She had ten (!!!) siblings, among them Charles Chalmers McDonald.
Charles was a "prominent figure in business and political life in Raleigh," according to his obituary. In February of 1915 year, Charles was sued in Martin v. McDonald over a breach of contract in the sale and purchase of ten shares of stock of the American National Bank of Asheville. Charles won the case but, in a surprise move that warranted statewide news coverage, He took his own life that same year. The suicide was reportedly due to Charles' failing health. Flora attended his funeral in Raleigh, according to a newspaper clipping.
Flora married Marcellus Webster Sorrell in 1876. In the 1880 census he was listed as a "Merchant Grocer" in Raleigh. (Flora's occupation was listed as "Keeping House.") Marcellus died in 1891 at age 40 leaving Flora a widow. The couple had no children and Flora never remarried. She's listed as a widow on all following census records.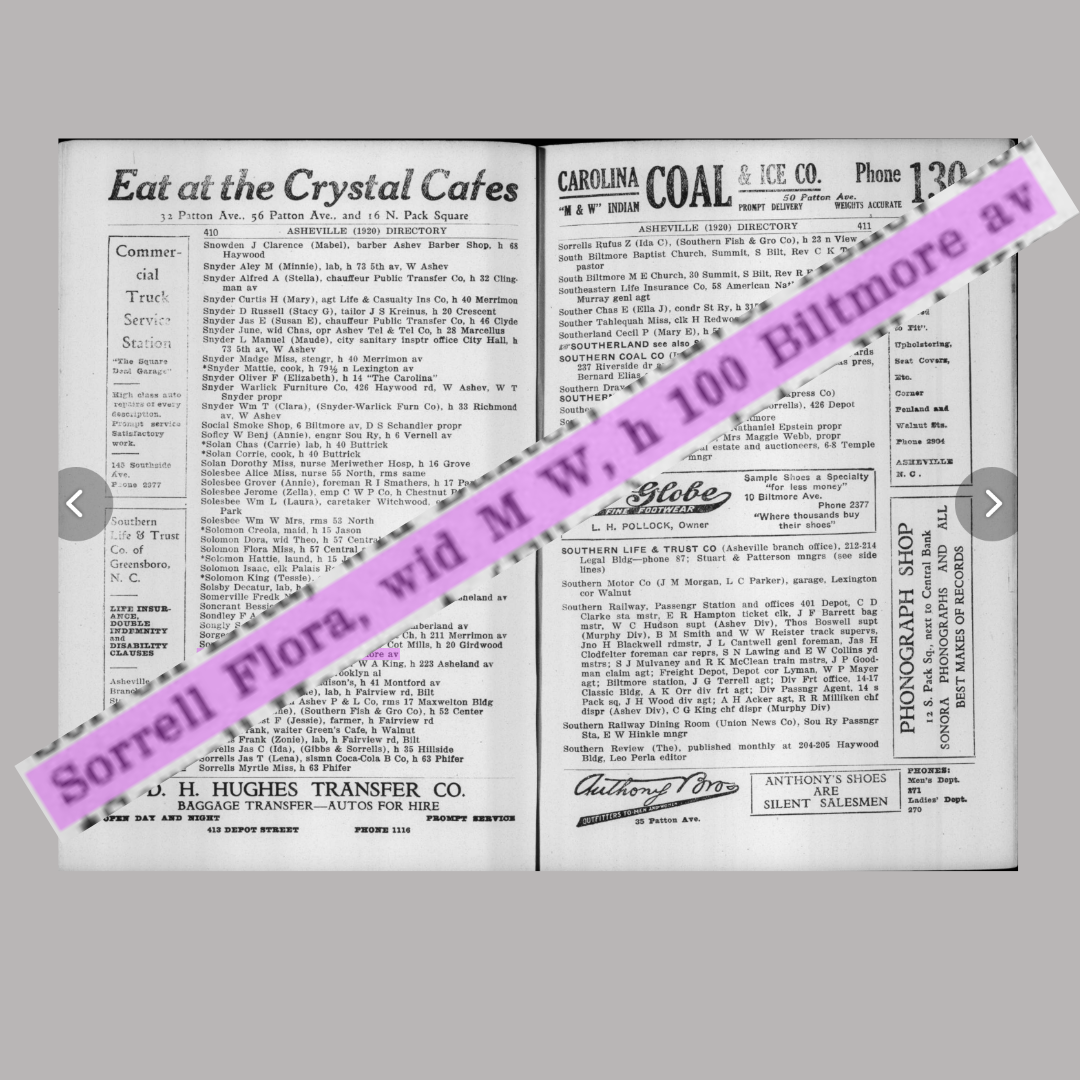 By the 1900 census, Flora was based in Asheville, renting a house of her own. In fact, in the 1896 Asheville City directory, she's listed as the proprietor of a boarding house at 88 N. Main St.
In 1910 she's listed as a homeowner at 5 Oak Biltmore, also in the city directory. In 1928 she is listed as the homeowner at 19 Grove St., and in 1930 and 31 she lived at 183 Brucemont Circle in West Asheville. By 1937, she lived on Virginia Avenue, also in West Asheville.
Between 1912 and 1919 Flora resided at 100-104 Main Street. The 1914 city directory lists "boarding" as her occupation at 100 Main Street and "same" for her home address. The 1916 directory notes "furnished rooms" as Flora's occupation.
In 1925, Flora was listed as residing at 102 Main Street, another boarding house next to today's Gray Rock Inn.
Following the stock market crash of 1929, Morris Meyers lost his inn to foreclosure. Flora lived another decade, passing away in 1940. She is buried at Riverside Cemetery among other Asheville luminaries such as O. Henry and Thomas Wolfe.